TALKS & WORKSHOPS
These talks are informative to anyone who wants to improve their health. Whether you want to take small steps, or a giant leap, you will definitely gain that golden nugget of information to set you on your way, sprinkled with a bit of encouragement and inspiration to ensure that you will take the next step on the ladder to a healthier lifestyle and a healthier you.
All talks to be held at my coffee shop: Priory Coffee, 1 High Street, Stoke-Sub-Hamdon, TA14 6PP
Parking available either in the street or the free car park on Ham Hill Road.
Time: 7pm
Cost: £10
The juicing talk will incur an extra fee of £3 to cover the cost of the juice.
Cash or card payment acceptable.
To book a place please contact me directly. Contact details at the bottom of the page.
SCHEDULE
Thursday 19th November 2020: Why Are We So Sick? A Holistic Approach to Health and Vitality.
Thursday 3rd December 2020: A Happy, Healthy Gut = A Happy, Healthy You.
Thursday 7th January 2021: Juice and Detox Your Way to Health.
Thursday 4th February 2021: Tools To Reduce Stress and Its Triggers.
Thursday 4th March 2021: Introduction To Homeopathy and How To Use It.
See below for talk details.
JUICE AND DETOX YOUR WAY TO HEALTH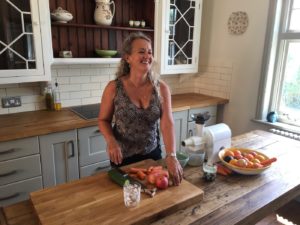 This workshop will encourage you to dust off the juicer, take the Nutribullet out of the box, and get started.
Having worked continuously in the Detox Retreat world since 2001, I bring a wealth of knowledge to this 2 hour talk.
Juice or Smoothie…..The benefits of both
What juicer to buy…..Including juicer/blender – the difference and why
Detoxing…..Should I or shouldn't I? And what does it mean anyway?
Going Organic…..Is it really necessary?
Supplements for your smoothie
PLUS…..A Juice Demonstration to include juices, smoothies and shots (If venue allows)
HAPPY, HEALTHY GUT – HAPPY, HEALTHY YOU
This workshop is designed to shed some light on what action you can take to start your journey towards health and vitality on every level, starting at the most logical place…..THE GUT. I became a practitioner due to my own personal gut health problems and have been passionate about the subject ever since.
The importance of good digestion, absorption and elimination
Healthy gut bacteria, (the microbiome) and the role it plays in supporting our immune system and emotional health
How to support your health with probiotics and prebiotics
The healing power of Bone Broth
Leaky Gut and the link with inflammation, mental health, auto-immune and chronic disease
PLUS…..A demonstration on how to make 'Kefir and Sauerkraut' (If venue allows)
WHY ARE WE SO SICK? – A HOLISTIC APPROACH TO HEALTH AND VITALITY
This talk will help you understand how everything is connected and what makes us 'sick and tired'. Understanding is the key to making positive change.
The Wheel Of Health – The 9 areas that influence our level of health
Pre-conception to now – The journey from pre-birth to chronic disease
Gut health and stress – The centre of the puzzle
Diet – Small changes that can make a big difference
Inflammation – Linked to all chronic disease. How to introduce anti-inflammatories into your life
The Wild Card – Energy, beliefs and Law of Attraction. Change your thoughts – Change your life
TOOLS TO REDUCE STRESS AND IT'S TRIGGERS
Stress has been called "The health epidemic of the 21st century" by the World Health organisation. A certain level can be positive and motivating, but long term chronic stress will eventually lead to burnout and chronic disease.
Fight or Flight stress response and how it affects us
Perception and reaction – Why does one person get stressed and another doesn't….in the same situation
Belief system – What is keeping you stuck in stress
Gut health and the influence of your gut bacteria on depression and anxiety
Diet and Supplements to help your body manage stress
Staying in the moment, and tools to help
PLUS…..A 'Tapping' (EFT) demonstration to lower stress and cortisol levels
THE MENOPAUSE – A CURSE OR AN OPPORTUNITY FOR GROWTH?
Ladies…..this one is for you. Time to break through the myths that as soon as you stop menstruating, life goes down hill.
Are you going to implode into old age, or expand into a new, creative and abundant life? I have been through it myself, and come out the other end 'naturally' and rest assured…..'You are not going insane!'
What is going on with your body?
Identity – Who am I now and do I still have a purpose?
Diet and supplement suggestions
A look at HRT and Bio Identical hormones
Lets look at – Sleep problems, hot flushes, weight gain, mood swings and low libido
Manopause and is there such a thing…..hell yes!
PLUS…..An opportunity for you to speak freely in a supportive and like minded group